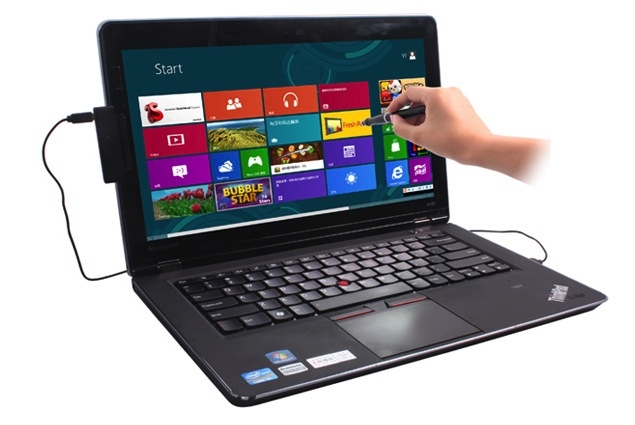 Portronics Handmate Windows 8 Pen is one of those nifty little devices that seem too good to be true when you first read about them. It promises to turn any Windows 8 laptop into a touchscreen device, letting you experience the joys of owning one of those 'hybrid devices' at fraction of cost.
Setting up the Handmate Windows 8 Pen is simple - just connect it to anu available USB port on your Windows 8 laptop and fix the receiving unit on one of the edges of the screen, about half way from the top. Go to the Control Panel to calibrate the screen and a barely a minute later, you are good to go.
The Handmate Windows 8 Pen comes bundled with spare stylus and batteries that power the stylus. Portronics claims 500 hours of battery life given working/standby ratio of 1:9. The sensors on the Handmate Windows 8 Pen use a combination of infrared and ultrasound technologies and work on screens sized 16-inches and below, which means it is good to use with laptops and even desktop monitors of that sizes. A newer generation product that will work with screen sizes of upto 25-inches is expected soon.
All in all, Handmate Windows 8 Pen offers a decent options for those looking to add a dash to touch to their Windows 8 experience. At, Rs. 4,999 it's a not so expensive option to see if touch fits in your workflow before you take the plunge and buy an expensive native touchscreen device.