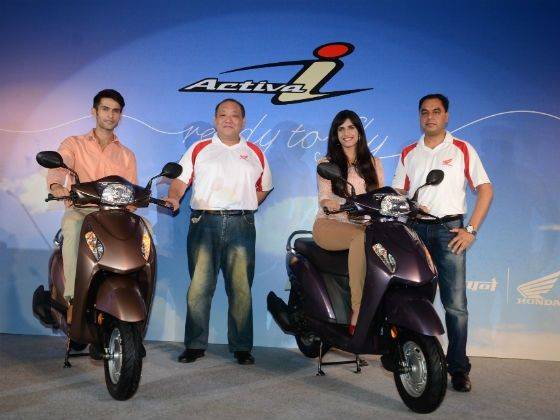 Honda launched yet another women-friendly scooter which is reasonably priced and with improved mileage. The new version of best selling Activa scooter is being touted as the cheapest in the 110cc segment and is likely to unleash a price-war among the two-wheeler manufacturers.
Apart from the pricing which is almost Rs. 5,000 less than the base Activa, what makes Honda Activa-i stand out in the crowd is its fuel economy which is claimed to be 60 kmpl. The weight of the two-wheeler is reasonably at 103 kg which has been achieved by its ergonomic body design.
With a torque figure of 8.74Nm @ 5,500 rpm, Activa-i uses air cooled, 109cc mill as in other Activa model and is capable of producing 8.15PS @ 7,500 rpm. Using Honda Eco Technology (HET) in its engine, it combines some of the best features of the earlier models like the Combi Brake System (CBS) which reduces brake distance by 24 percent as compared to conventional brakes.
Maintenance of battery is one of the most cumbersome exercises for scooter drivers, thanks to the concept of the maintenance free battery; it will not demand much of the attention. Likewise, its tubeless tyres and viscous air filters will make driving two-wheeler a pleasurable experience.