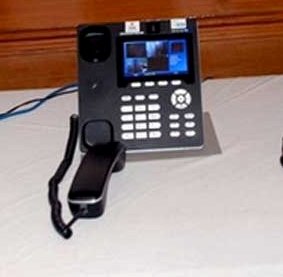 Bharat Sanchar Nigam Limited (BSNL), the state run telephone services provider has launched landline phones with video calling facility.
BSNL has partnered with Sai InfoSystem Limited to launch telephones with video calling facility which will primarily be used to set up public Video Call Offices (VCOs), replacing the Puclic Call Booth (PCos). Company is assure that this launch will boost the revenue of the company, since a major source of revenue are the landline phones.
"There will be no need to use computers for making video calls for users of these video phones. People will be able to make voice calls to any phone and video calls to any other IP phone," said RH Upadhyay, Chairman and Managing Director of BSNL.
The call charges will be Rs. 3 for 45 seconds video call made from the VCO which will include 30 percent commission for the franchise owner.