In this post we are going to tell you how to stop Facebook from sharing your location when you update your status. As Facebook is bringing new features day by day to enhance the user experience, therefore many of us find it hard to understand them. Like a couple weeks ago, I noticed that all of a sudden, every status update I posted included my location!
I'm sure I didn't requested or enable that feature.
Previously each update would note the time it was posted: "8 minutes ago", "2 hours ago", "yesterday" and so on. Now Facebook tracks on information about where I was when I posted the status: "near Walled Lake" for example.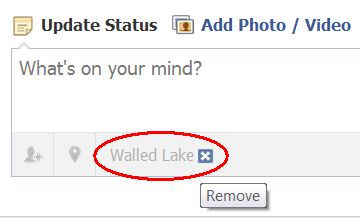 If you have noticed this as well and want to disable it, then here is the way of doing this.
When you click in the status update box, you'll see your closest city listed in the gray bar along the bottom. I probably looked at this a hundred of times without actually realizing what it was and why it was there.
Mouse over that city and click the little 'x' to the right of it. Cheers ! No more location information tracked on your status updates. If you ant o restore it, just mouse over the now blank area where where the city used to appear, then click Add current City.
This is what all you have to do . Now from on you can change this feature according to your needs whenever you want.